About Dr.Raju Easwaran
Received the best paper award from the DGHS
I have a keen interest in knee & shoulder diseases, which was stimulated during my initial training years at Safdarjang Hospital. I passed my MBBS from the prestigious Maulana Azad Medical College (MAMC) in 2000, & then joined the busy Orthopedics Department in Safdarjang Hospital as a post graduate MS student.
As a part of my postdoctoral training, I published my doctoral thesis on Arthroscopic ACL reconstruction, which was accepted by the University of Delhi in 2002. This thesis later was published as a paper in the Journal of Orthopedic Surgery. I also won the best postgraduate student award at the 3'rd post graduate instructional course conducted at MAMC for scoring the highest marks in clinical assessment.
After passing out from Safdarjang Hospital in 2003, I joined St Stephens hospital & spent 1 year there as a senior resident. I later joined Safdarjang again in 2004 to do research in my pet subject, arthroscopic ACL reconstruction as a research associate in an Indian Council for Medical Research (ICMR) project. We studied closely the two commonly used grafts, the patellar graft & hamstring graft for ACL reconstructions for the next one year. I joined as a senior resident in the prestigious All India Institute of Medical Sciences (AIIMS) thereafter, from where I finished my senior residency. The time spent at AIIMS was utilized in further fine tuning arthroscopy & joint replacement skills apart from handling complex trauma at this tertiary care referral center.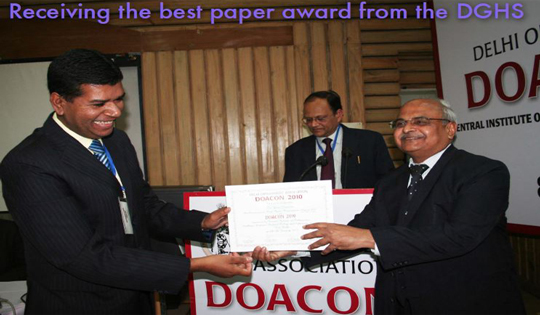 Fellowships & special training
I started my journey in Breach Candy & Jaslok hospitals of Bombay, where I was trained by a leading shoulder surgeon, Dr Sanjay Desai. I followed it up with a fellowship from the Royal Liverpool University & Broadgreen Hospitals in the northwest of UK. This is a large referral center for shoulder diseases & I got the opportunity to work with several international leading shoulder surgeons.
I went further south to Perth, Australia to train with Mr Peter Campbell at the St John of God Hospital. This is a very high volume center for shoulder surgeries & I got a very good exposure to both arthroscopic & open shoulder surgeries including the art of shoulder replacement.
I also got a flavor of Europe, when I was invited for a short training with Dr Phillipe Valenti at the Clinique Jouvenet in Paris. Dr Phillipe is an international authority & a designer surgeon of shoulder replacement implants. At this center, I polished my skills of shoulder replacement & certain other uncommonly done procedures like tendon transfers for massive rotator cuff tears.
Conferences
I get regular invitations as a speaker in several domestic & international events. Some of them are
International knee & shoulder conference (ISKSAA), Primus Superspeciality hospital, New Delhi, March 2009,March 2010 & Feb 2011.
MIDCON of Uttar Pradesh Orthopedic Association, Lucknow, September 2010.
Annual conference of Indian Arthroscopy Association in Ahmedabad November 2009 & Chennai, October 2010. International Shoulder Conference at Fortis Escorts Hospital, November 2010.
Free paper presentation on "My technique of all inside arthroscopic stabilization for recurrent patellar dislocations" at the CLAAS (Asia Pacific Arthroscopy Meeting), held at Hainan, China, June 2008.
Instructor for a cadaver lab at Siriraj Hospital, bangkok, Thailand, September 2011.
Regular instructor for cadaver couses organized by Indian Arthroscopy Society.
Chairman of scientific committee in the Annual conference of the Indian Arthroscopy Society, New Delhi, September 2011.
Annual conference of Indore Orthopedic Society, January 2012.
Chairman of scientific committee at the ISKSAA, New Delhi, Feb 2012.
Ganga Ram knee & shoulder course, March 2011 & 2012.
Pune Knee course, April 2012, where I demonstrated a difficult surgery as a live procedure.
Clinical skills upgradation
I regularly update my surgical skills by attending several cadaver lab courses & interacting with key opinion leaders from across the world.